To make the most of your WAKS candle, from first burn to last, we recommend these important tips.
PERFECT TRIM
Before lighting your candle, trim the wick to 0.5cm. Do this as needed before each use. Keeping the wick short will help a longer burn and prevent the candle from producing black smoke. Preferably use a wick trimmer but scissors are also fine.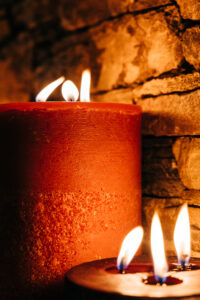 THE FIRST BURN
This is important as it will ensure your candle maintains a good shape.For single wick candles make sure the entire surface of the wax becomes liquid before extinguishing. In the case of multiple wick candles, always light all wicks at once. Make sure the pools join to form one area of liquid wax before extinguishing the candle. An even burn will ensure a superior release of scent.
BURNING TIME
After burning for 4 hours, candles should be extinguished, allowed to cool for 2 hours and trimmed before relighting.
KEEP SAFE
Always burn candles away from drafts, other heat sources and anything flammable. They should be lit on heat resistant surfaces. Make sure that they are out of reach of children and pets, while burning. Never leave a burning candle unattended.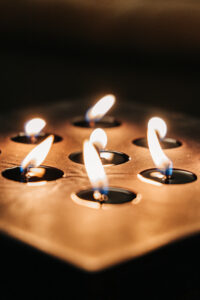 KNOW WHEN TO LET GO
Stop using your candle when 1cm of wax remains at the bottom of the vessel. This is a safety concern, as the vessel will get too hot to touch or could even brake. The burning quality of the candle will also be reduced.
REFILLS
Candles from all collections can be refilled. Clean them thoroughly and bring them to our boutique. Please allow a few days for your candle to be refilled. Additionally, you may purchase directly the refill of your scent of choice for you WAKS Original candles in in-store and online.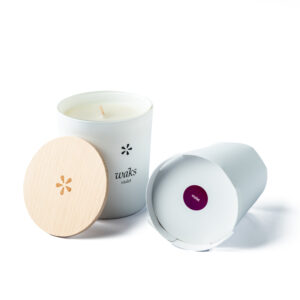 Refills for diffusers are also available in store and online.